Although we could have a long chat about employee oriented onboarding procedures, today's post touches on how you can leverage some of those concepts to improve your web engagement.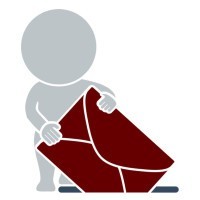 If this bit of jargon is new to you, onboarding is the procedures used to effectively integrate someone like new employee into an organization and/or familiarize with processes and policies. This is often applied to customer service points of contact as well and that's the context we'll examine today.
I wrote an article about this for ArtsHacker that provides a good bit of nuts-and-bolts information about how to go about the process, but the idea came after receiving an email from a local arts organization announcing their new website.
The email itself was fine; they highlighted several new features and functionality, all of which made the email quite long. Moreover, it was very text heavy with only a few screencaps pointing out each new item.
Since then, I've received nothing from this group about the new site and it dawned on me at what a lost opportunity this was.
As it turns out, I had a Venture Platform client launch their newly designed website this week (lookingglasstheatre.org) and in advance of the announcement, we talked about what they can do to make use of onboarding techniques to improve overall engagement; and more importantly, get their existing patron base using the new features designed to improve conversion.
They decided to include onboarding style content as part of their next few regular weekly email campaigns, such as highlighting a new mini-calendar appearing on the home and single event pages that visitors can use to jump right into the ticket purchase pathway.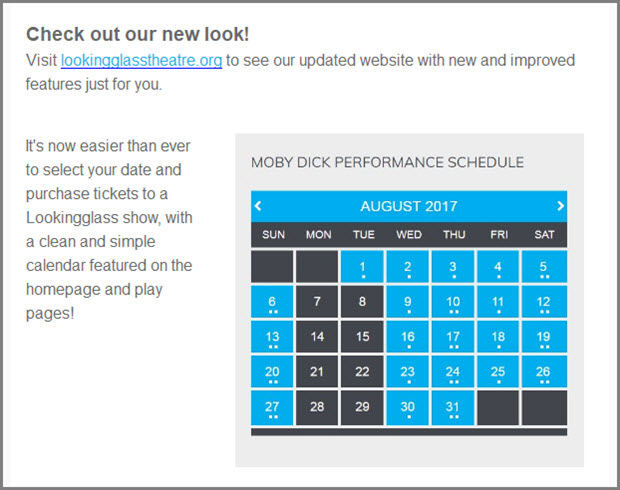 Subsequent messages will continue to focus on similar items along with new and expanded information about their show archive and ensemble members.
Not only will this approach increase overall engagement but it will indirectly train existing site visitors on how to navigate the changes from old to new designs. A good bit of what you'll read about in the ArtsHacker article is incorporated into Lookingglass' subsequent email campaigns. This is an ideal place to begin if you plan on finding yourself in a similar situation soon.