While reading an article in the 9/12/18 edition of the Washington Post about South Korean military service evasion crime, I was surprised to see that topic intersect classical music.
As an example, the article cited an attempt by 12 conservatory students to evade conscription.
 This week, South Korea's Military Manpower Administration said that a group of 12 college students studying classical music in Seoul tried to gain a huge amount of weight before the medical exams that would determine their fitness for military service. The students drank protein powder to put on weight ahead of their appointments, and some even drank a heavy aloe vera juice the day of the exams to appear even heavier than they already were.

The Military Manpower Administration said in a statement that "the classmates shared tips on how to gain weight in an online chat room." That may be how the military figured out they were gaming the system: Officials reportedly acknowledged using "digital forensic technology" to figure out that it wasn't a coincidence that the music students all put on so much weight before their appointments.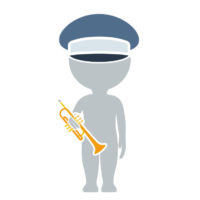 Military conscription in the US ended in 1973 so there hasn't been a news item here along these lines for quite some time.
Having said that, during its time, conscription had a substantial impact on the development of the US classical music field. For example, the formation of large symphonic ensembles, like the 7th Army Symphony, brought together musicians who would have otherwise never crossed paths.
Be sure to drop by the list of members, it reads like a who's who of classical music plank owners that went on to build much of what we take for granted today. Here are a few highlights from the conductor roster:
Schermerhorn, Kenneth D.   '53 – '55: former Nashville Symphony music director and namesake of the world-renowned symphony center.
Tung, Ling   '56 – '58: Founded the Grand Teton Music Festival.
Adler, Samuel   1952: renowned composer, conductor, author, and professor who is credited with helping form the 7th Army Symphony
I highly recommend taking the time to review the list and find and reach out to any of the names to ask them about their time in the ensemble and how conscription influenced their career as a musician.