Back in May, we pointed out an article that was examining the business practices of Sofar Sounds, a presenter of non-classical music events in small venues.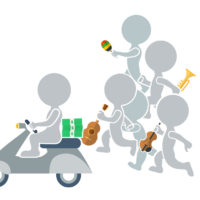 In a nutshell, the company's business model has come under scrutiny of the New York State Department of Labor, who confirmed an investigation into Sofar Sounds is in motion. An article by Matthew Ismael Ruiz broke the news at pitchfork.com.
According to the original article about Sofar Sounds, they came under fire for only providing artists $100 for a 25-minute set when the company would net anywhere from $1,100 to $1,600 per event.
On the classical music end of things, Groupmuse adopts a very similar business model. Groupmuse was founded as a C corporation and while they now define themselves as "a public-benefit corporation" that doesn't really clarify their current corporate status.
The cagey definition is made muddier thanks to Groupmuse linking to the Wikipedia entry for "public benefit corporation."

There's no information about the formal corporate status or which state they're incorporated anywhere in the organization's about content, but you will find information about how mysticism fits into their corporate values.
Groupmuse has no guaranteed minimum pay for musicians performing at their core event offerings. They recommend guests pay $10 per event, but what's enforced is a pay what you want model. a standard that falls below Sofar Sounds' practices.
Ideally, details from New York State Department of Labor investigation will become public and once they do, it could impact the broader burgeoning gig economy business model as applied to performing artists.
Until then, you can learn more about Groupmuse in a pair of articles here from 2015 that examines their business model.