Quickbooks sent users an email on 3/10/21 notifying them the ACH (Automated Clearing House) payment option that allows clients to pay invoices with funds directly from a bank account was going from a no-fee payment option to charging a one percent fee. Even worse is they are only giving users one month advance notice.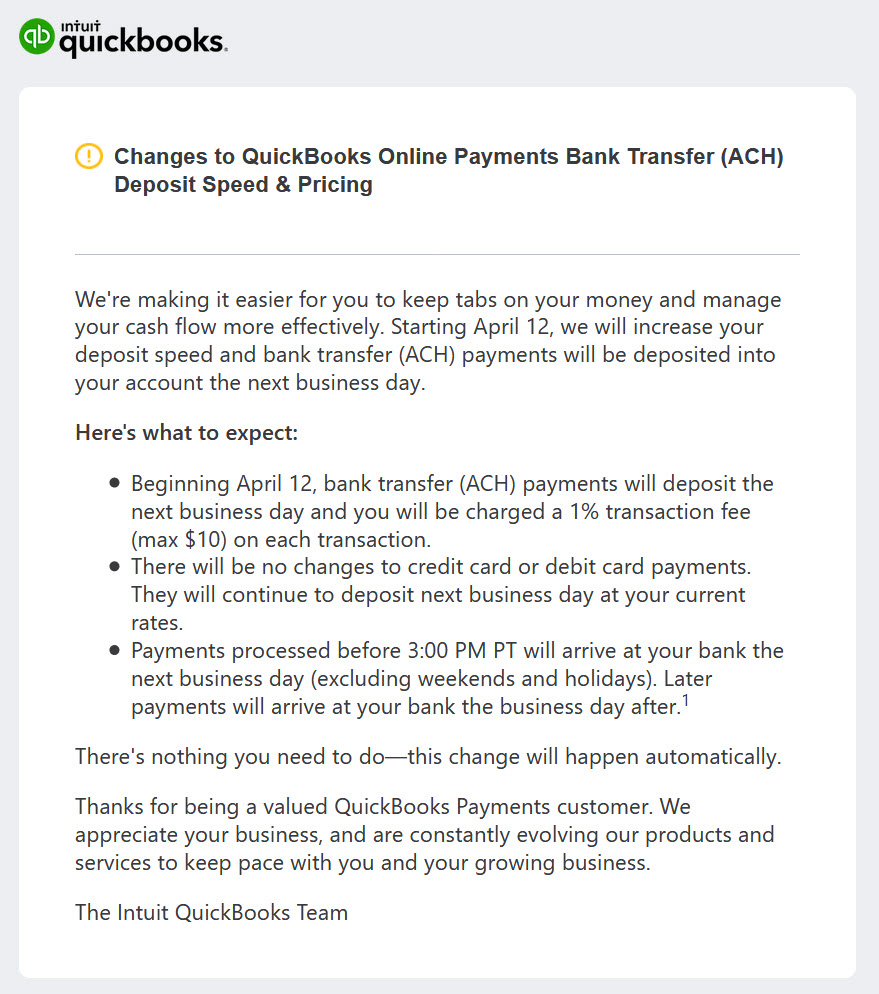 As a Quickbooks users, I as pretty upset when this email arrived and immediately called their billing department for some answers. Turns out they were ready for the complaints and the representative I spoke with was ready to deliver those excuses wrapped in shiny layer of disdain.
It's bad enough the email attempted to phrase this increase as some sort of benefit to "manage [my] cash flow more effectively" but the representative attempted to spin this as something that's the user's fault.
"We have to begin charging the fee in order to keep providing the new features and service users like you have been asking for."
Keep in mind, emphasis wasn't added in the above quote, that was the inflection used by the representative.
After pointing out that the bulk of my users are nonprofits and many have moved to the ACH payment method in order to save money during the pandemic, the indifference from Quickbook's representative was unchanged.
I requested my account be exempt from the increase or at the very least, any nonprofit client invoices be exempt, and the representative audibly laughed.
Adding insult to injury, the one-month notification ends up becoming only two weeks for my clients that use a monthly payment plan where invoices go out on the beginning of each month.
I couldn't be more disappointed with Quickbooks. What's more, I know of nonprofit performing arts orgs that use Quickbooks for invoicing fee based program services and they'll be faced with the same issues.
[easy-tweet tweet="There's no good reason to roll out a fee hike during a pandemic. @QuickBooks @QBCares should reconsider the ACH payment method increase and keep it at zero." user="adaptistration" url="https://adaptistration.com/dick-move-qb" template="light"]