Since publishing yesterday's post about the Boston Globe article examining the New Hampshire Music Festival's abandoned plans to revamp the festival's artistic structure, the Globe article has been attracting some fascinating comments. One theme throughout those comments is the notion that younger musicians equal exciting performances. Some comments replying to that sentiment supported the notion that musicians get lazy, sloppy, and lackluster with age and subsequent complaints from these musicians are attempts to conceal professional failings. All of this is related to one of the more contentious, yet unspoken, aspects of this business that by its nature, tenure promotes indolence…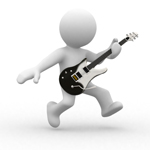 Of all the prickly issues in this business, tenure is one of the prickliest. We covered this subject several years ago in an article titled Reader Response: Musician Tenure and after reading the article again earlier this week, I think most of what's there is every bit as suitable today as it was then.
Simply put, there's no denying that the cog-in-a-wheel syndrome can grind down the artistic luster of even the most inspired musician. Add to that, the normal layer of life oriented burdens such as new-born induced sleep deprivation, health problems, divorce, etc. and there are plenty of reasons why playing can erode. Those certainly aren't excuses and to that end, a great deal of time and effort has been spent by players and managers over the decades to craft artistic review language to appropriately deal with the end result of tarnished performance standards.
At the same time, we could collectively marginalize this syndrome by focusing more on creating a system that prevents the need for artistic review by creating ways to combat regularly occurring performance degradation. Certainly, this is far from a novel concept as businesses have explored positive methods for improving and prolonging employee performance for quite some time. Yet, the orchestra business seems to be strangely detached, almost as if all musicians are expected to be entirely self motivated throughout the full length of their career. Can you imagine a company like Google achieving what they have with principles like that?
Ultimately, age has little bearing on artistic output. Young players don't monopolize the exciting end of the spectrum and older players aren't merely "instrument operators." Maintaining high levels of thrilling artistic accomplishment is something that is a sincere team effort so the less time spent on generation games, the better.
In fact, I'd love to hear more about programs and other efforts to maintain, promote, and advance levels of artistic accomplishment that are sponsored by employers. So don't be shy, share what you know in a comment below.