Thanks to an astute reader for posting a comment to yesterday's article, pointing out an item of interest at the New Hampshire Music Festival (NHMF) website. The reader noticed that the NHMF website features a picture of Festival Director, Henry Fogel, on the home page along with a related press notice but there is no musician roster listed anywhere throughout the website. This touches on an old topic, dating all the way back to one of Adaptistration's very first articles from 11/6/2003 titled I Go To The Symphony For Their Executive Director?…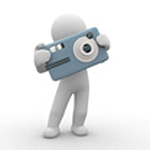 The topic has (unfortunately) become a staple of each year's Orchestra Website Review installment that examines the best and worst elements from the respective review; in particular, the "Worst Of" category of "Narcissistic Executive Directors." As stated in each year's review article, the Narcissistic Executive Director syndrome is when orchestra executives feel compelled to post their pictures, biographies, or personal messages to patrons on the organization's website when there is nothing beyond scant information about the musicians. Granted, there is absolutely nothing improper with posting biographical data, photographs, and personal messages from or about executives, but when those endeavors eclipse learning about the actual musicians it is time for the organization to reevaluate its priorities.
In the case of the NHMF website, the notice about Fogel on the home page certainly doesn't fall under the precise parameters as those used for the Orchestra Website Reviews, but it is undoubtedly related. Furthermore, given the high degree of tension between the Festival's leaders and musicians (as reported in the 1/11/2010 edition of the Boston Globe), promoting any member of the organization's administrative team over and above institutional artists is puzzling.
In the same way there is nothing improper with posting biographical data, photographs, and personal messages from or about executives, there's nothing improper with posting a news item about a member of the organization's administration. However, the related political ramifications in this situation should have been abundantly obvious and options that wouldn't inadvertently agitate an already antagonistic atmosphere should have been explored before the NHMF posted the notice at their website. At the very least, the notice should have been amended as the labor situation deteriorated.
In another place and time, perhaps this wouldn't be such an issue. But the lesson to be learned here is that in a climate of highly charged labor relations, every orchestral organization would be well advised to take a second look at planned promotional material for red flags such as this before proceeding.