Hugh MacLeod published an article at his blog on 2/14/2010 entitled "the three keys to social media marketing." If MacLeod's name is familiar, that's a good thing. He's the author of one of my favorite books, Ignore Everybody: and 39 Other Keys to Creativity, which serves as source material for the series of articles here under the tag keys to creativity. In his blog post, MacLeod suggests that sincere gift giving leads to successful social media marketing. In his case, the gifts are his cartoons but that got me wondering how this could apply to the orchestra business…
MacLeod's three keys consist of:
1. Figure out what your gift is, and give it to them on a regular basis.

2. Make sure it's received as a real gift, not as an advertising message

3. Then figure out exactly what it is that your trail of breadcrumbs leads back to.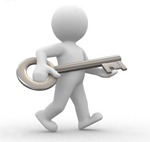 He concludes by writing "It can't be selfish. It can't expect something back in return. It can't huckster. People can tell, you see…" All of this makes good sense from the perspective of recommended social media practice, such as the items espoused here in the How To Connect With New Media series.
In MacLeod's case, giving away his back-of-a-business-card art is comparatively easy. For orchestras, the gift of our art is less straightforward.
The most apparent option is to give away sound clips on any sort of regular basis (daily, weekly, etc.) but that has a number of strings attached if you want to use clips from your respective ensemble. Unlike MacLeod's single artist/agent model, orchestras have a multitude of stakeholders involved in that process.
However, if this is something that can be addressed to the satisfaction of all stakeholders involved then you're set to go. Alternative resources include exploring options with other content owners/distributors such as Naxos Music Library or IODA promonet, but you'll still need to work out some sort of agreement, which may require remuneration.
If none of those options work, what else can orchestras give away as a gift besides music? What else do we have of value that is also interesting to potential ticket buyers and donors? Undoubtedly, there are additional resources at our disposal but I'm interested in seeing what readers think before exploring this any further (so submit a comment).
The other outstanding item here is related to the third of MacLeod's three keys. Specifically, how to go about tracking breadcrumbs. We'll explore that topic in a future article along with "gift" ideas coming in as comments.