The Detroit Symphony Orchestra (DSO) issued a press release, late in the afternoon of Thursday, 10/7/2010 to announce they "will host violinist Sarah Chang and pianist Robert Koenig on Orchestra Hall stage on Monday, Oct. 11 at 7:30 p.m. in a special recital…" Chang was scheduled to appear with the DSO this weekend as the soloist for Bruch's Violin Concerto No.1 but those concerts were cancelled due to the musicians' strike. UPDATE: 10/8/2010, 1:28pm CT, public reaction…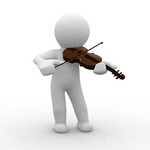 Currently, the DSO is allowing patrons with tickets to any of the cancelled performances to use those tickets for the recital.
"Patrons who have tickets to the Symphonie Fantastique season opening concerts featuring Music Director Leonard Slatkin and Sarah Chang that were originally scheduled from Oct. 8-10, but were cancelled due to lack of rehearsals associated with the musicians' strike, can submit their tickets at the door to the Sarah Chang recital for general admission seating. The general public can purchase general admission seating for $25. Doors to Orchestra Hall will open at 5:30 p.m."
This performance will be intriguing from the standpoint of whether or not the DSO musicians intend to conduct picketing and/or leafleting activities during the performance. Regular readers will remember the article here from 9/29/2010 that examined conductor JoAnn Faletta's withdrawal from a musician produced concert. The musicians' public response to that incident included speculation of quid pro quo influenced in part by the DSO but whether or not they intend to leverage similar speculation against management for Chang's recital is unknown.
A query was sent to the DSO inquiring but at the time this article was published, there was no response but I'll update this article when (if?) one arrives. Likewise, there was nothing at the musicians' website announcing any intentions or statement on the recital. Update: see the comment thread below for updates from the musicians' position.
Update: Public reaction to the recital has been unfolding throughout the day at the DSO Facebook page as well as the DSO Musicians' Facebook page. The following screen captures were taken at approximately 1:00pm CT.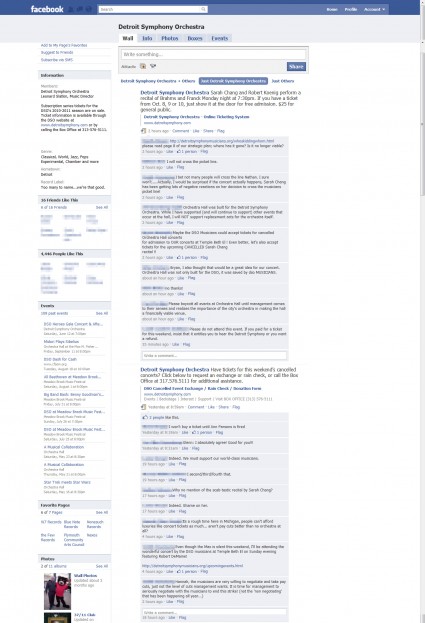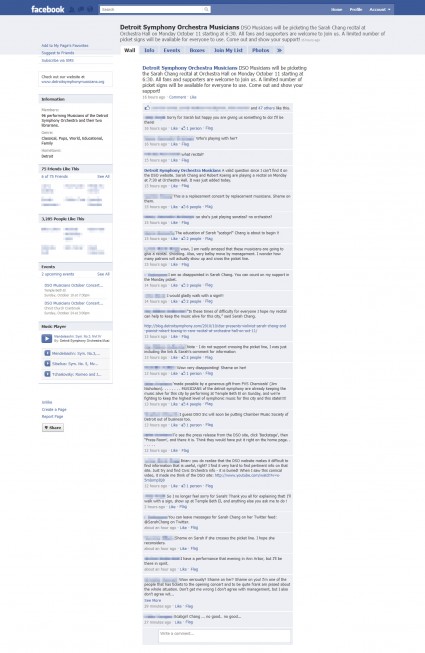 Update, 4:52pm CT: WQXR reports that Chang's management declined to comment on the situation.