If nothing else, this season has been one of reflection but one of the more tiring discussions is whether or not the arts add value to society. Of course they do, but it seems that a society which enjoys a high standard of living can forget all too easily just how important the arts are beyond the realm of live performance…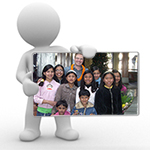 My recent trip to Nepal as part of the HEARTbeats Foundation served as a profoundly meaningful experience with regard to reaffirming the transformative power of music and art. I posted more about this at the Foundation's Nepal blog and I hope you take a moment to head over and give it a read.
In the meantime, take some time to reflect on the year and the seasons ahead. Why do you think the arts matter? What is your purpose in this business?