A few items of note to point today: the first from Detroit where it seems like both sides in the Detroit Symphony Orchestra (DSO) dispute are having some trouble working through the necessary issues in order to even consider arbitration. And by trouble, I mean a continuation of the same fundamental separation on the most critical issues related to the season killing work stoppage…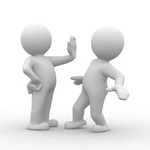 The Detroit Free Press and Detroit News recently published articles about the exchange. The Free Press article by Mark Stryker includes some frank comments from management and musicians' lawyers which indicates the idea of arbitration will likely die due to an unwillingness to include any components that impact financial obligations.
[Management attorney Bernard] Plum said there were so many details that affected the economics of the deal that it was impossible to say exactly which issues management would be willing to arbitrate and which they wouldn't. Those were subjects for negotiation, he said.

"This is a complicated circumstance," he said."We would be throwing most of the collective bargaining issues to arbitrators, and all the issues that we think are important about the future of the orchestra in the hands of a third party.

"We're not going to put ourselves in a position where we can't afford the third year of the contract."
Musicians' attorney Leonard Leibowitz characterized Plum's sentiment as a passive aggressive nonstarter.
…Leibowitz told the Free Press that because management remains unwilling to send key economic issues — including base pay and other details of how the $36 million in the three-year contract should be allocated — to arbitration, the musicians' offer from last week has been effectively gutted…"They seem to not want to come right out and say they refuse to arbitrate," Leibowitz said."Instead, they make proposals which I think they have to know would be turned down. What would we be doing there? Just fighting off things that they want?"
Consequently, it remains unclear whether the notion of comprehensive arbitration is even a consideration at this point in the dispute.
And it seems that cutting edge of techno-journalism is also paying attention to Detroit's labor unrest. The Daily, a digital news publication with original content created every day exclusively for the iPad, published an article on 3/3/2011 by Benjamin Carlson that examines a number of the primary issues.
Within the context of these issues, Carlson includes a quote from me about the differences in time between how long it takes to build an artistic standard vs. the time it takes for it to fall apart. Regular readers here are likely already familiar with this concept, which I first referred to as "The Fragile Powerhouse" in an article from 2007. Ironically enough, that article was examining some unrest in Detroit at that time.
In other downer oriented news, the Honolulu Symphony Orchestra's (HSO) bulk auction is officially listed online. Thanks to Chris Blair for pointing out the direct link.