Following the news that Detroit Symphony Orchestra concertmaster Emmanuelle Boisvert decided to leave her position for an associate concertmaster position at the Dallas Symphony Orchestra, the Detroit Symphony issues a brief statement from board chair, Stanley Frankel. Frankel's statement could perhaps best be described as profoundly indifferent…
"The DSO learned of this disappointing loss just this morning. We thank Emmanuelle Boisvert for her many years of dedicated service and artistic excellence and wish her much happiness and success in her future endeavors with the Dallas Symphony Orchestra.

Retaining and attracting top talent remains a priority for the DSO at every level and under the leadership of our Music Director Leonard Slatkin, the DSO will continue to achieve tremendous artistic success while building a sustainable and viable business model going forward."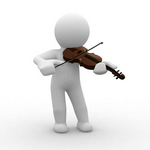 The obligatory "retaining top talent remains a priority" phrase certainly has a hollow ring to it in light of the fact that losing a concertmaster, the primary artistic member next to the music director, to an orchestra with a traditionally smaller budget is an intense event. Make no mistake, this is a profound blow to the Detroit Symphony. It delivers exponentially more punch when said concertmaster left for a position that is considered a step down.
If you run Frankel's message through a spin filter, it might come across something like this: So long as Leonard sticks around we don't care who leaves and the more high price salaries we can get rid of, the better. Don't expect a bon voyage party and don't bother cleaning out your locker, we'll send* your things along to your new address.
If there is any doubt behind Boisvert's motivation, it will be washed away with the following passage from her press statement.
"This winter I performed with the Dallas Symphony on several occasions and marveled at their organization's commitment to classical music, the intrinsic respect offered to musicians by the administration and esteemed Music Director, Jaap van Zweden, and the emphasis they place on communication and teamwork at all levels. I had planned to stay in Detroit for my entire career, but Dallas presented me with an opportunity I simply couldn't refuse."
In case you didn't catch the message in the Grand Canyon size gaps between the lines, then allow me: I'm leaving because I can't stand working for our current board and administrative executive leadership. Sticking around to make things better from the inside out is neither sustainable nor viable. I don't care that my new gig is a step down in status (and perhaps pay), but the thought of working for this leadership team is so impalpable I took the first reasonable offer to come my way from a group that isn't a fire to the frying pan that is the new Detroit Symphony Orchestra.

In case anyone was wondering whether or not Detroit Symphony musicians were capable of getting out of Dodge post-haste in the face of the "oversupply of musicians" and/or "lack of openings" arguments, Boisvert's defection should pretty much put a railroad spike size nail into that coffin.
*C.O.D, parcel post.