It never ceases to amaze how much perception can change from one individual to the next and even though it's no secret that a live concert event is a very subjective experience, we don't always have a chance to read about it from two very divergent views. Yes, there are music critics but there are few surprises in the traditional concert review format. Instead, I'm talking about the story behind the story, such as all of those off stage elements that intertwine with the music.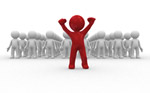 Think of it like a Quentin Tarantino film where the scenes are presented in nonlinear fashion and jumbled around to the point where you don't really get how they connect until the end. Such an event recently took place in two online outlets where the subject matter focused on a recent Mahler 2 performance at The Grand Teton Music Festival (GTMF).
The first article was written by Chloe Veltman and published on 7/19/2011 at her blog, lies like truth. The second article came out on 7/20/2011 and was written by [sws_css_tooltip position="center" colorscheme="rosewood" width="450″ url="" trigger="Betty Mulcahy" fontSize="14″]Full disclosure mode: Betty Mulcahy is my mother-in-law and my wife, Holly Mulcahy, is a GTMF violinist. [/sws_css_tooltip] as a guest author post at Neo Classical.
Veltman participated in the concert as a member of the chorus; Mulcahy participated as a concert-goer. Both articles provide a good amount of back story that allows you to walk a mile in each author's respective shoes, but both paths arrive at the same destination.
I won't ruin the surprises for you but suffice to say, Veltman's article generated a considerable amount of feedback, most of which appears to come from GTMF musicians and even the director of the chorus, the San Francisco Festival Chorale, which participated in the concert [sws_css_tooltip position="center" colorscheme="rosewood" width="400″ url="" trigger="(update)" fontSize="14″]Since this article was published, the director's comments no longer appear and Veltman's article has been edited multiple times. [/sws_css_tooltip] .
I will say, however, that both articles do an excellent job at reminding us how easy it is to sell the live concert experience as well as how easy it can become to forget that when you're so close to the subject.