Among the largest budget orchestras, one of the most competitive issues is the ability to attract and retain the very best talent and perhaps unsurprisingly, one of the primary components in that equation is base wages. So I thought it would be helpful to take a look at what sort of impact the recent Philadelphia Orchestra concessionary agreement has on the big budget orchestra competition landscape.
In order to put together a reasonable peer group, orchestras had to offer a minimum base musician annual [sws_css_tooltip position="left" colorscheme="rosewood" width="450″ url="javascript:void(0);" trigger="wage" fontSize="12″]Figures were gathered from ICSOM settlement bulletins and a few inside sources; many thanks to those folks, you know who you are! [/sws_css_tooltip] of $100,000 as of the 2009-2010 season. From there, figures were plotted for each ensemble through the 2013-2014 season for as long as information was available. Simply put, the data paints a profound picture (the Philadelphia Orchestra plot, in dark red, has been highlighted):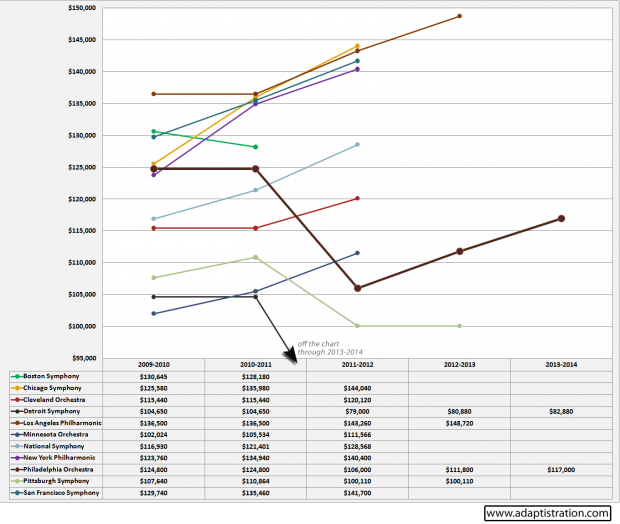 Observations
Philadelphia Orchestra's recent agreement places it firmly below traditional peers, including the Cleveland Orchestra.
For the first time in the history of the organizations included in this examination, the Philadelphia Orchestra will be surpassed by the National Symphony and the Minnesota Orchestra.
The Detroit Symphony Orchestra wages fell to such a [sws_css_tooltip_image position="center" colorscheme="rosewood" makeOverflowVisible="1″ url="" src="https://adaptistration.com/wp-content/uploads/how-low-did-Detroit-go.png" image_width="900″ image_height="726″]level [/sws_css_tooltip_image] that it can no longer be considered competitive with this peer group.
If the National Symphony continues its recent trend, it may supplant Boston and become the newest member to break into the "Big 5" since Los Angeles and San Francisco.
The Pittsburgh Symphony came close to surpassing Philadelphia but their agreement from earlier in the season contained enough concessions that they are now on the bottom of this peer group.
Which Negotiations To Watch & Why
Boston Symphony: They've slipped a tiny bit in recent seasons and given the rate of increase of the groups at the top of the pack, their new agreement could allow them to continue running with that pack or see them falling behind.
National Symphony: Among all the ensembles in this peer group, they've been growing at the fastest rate. If Kennedy Center CEO Michael Kaiser can continue to fund that trend, he may not only pull away from the groups that aren't keeping pace but firmly plant the orchestra as a fierce competitor for the best talent.
Minnesota Orchestra: the giddy thrill of seeing Philadelphia in their rear view mirror may be short lived if, at the very least, the organization doesn't manage to produce a series of wage freezes and small gains in their upcoming negotiation.
Sadly, the Detroit Symphony Orchestra is clearly out of the running when it comes to this peer group and if there's a lesson to be learned it is this: competition for top talent not only exists, it's alive and well. All of those voices during the Detroit strike declaring that those musicians would have nowhere to go have fallen steadily quiet in light of the orchestra hemorrhaging not only its [sws_css_tooltip position="left" colorscheme="rosewood" width="450″ url="" trigger="principal" fontSize="12″]The latest being the Detroit Symphony's Principal Bass who recently won a position in the Minnesota Orchestra. [/sws_css_tooltip] and fixed chair musicians but a host of section musicians as well.