At the end of last week, the Louisville Orchestra (LO) followed through on its announcement to hire permanent replacement musicians by sending out a "National Call For Applications" Flyer to a variety of academic institutions. The one page flyer contains basic compensation information and that the current openings are to "replace musicians who are on strike."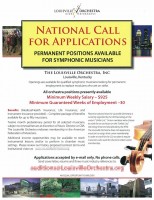 There is no mention of application deadlines, when employment will begin, how candidates will be selected, or whether an audition process is planned. Additionally, the flyer requests that interested applicants submit a "cover letter, resume, and three music-industry references." The request for a cover letter, along with some other peculiarities in language, made it seem as though the flyer might have been a hoax.
But according to LO Media Relations Manager, Heather O'Mara, the flyer is legitimate and the organization has been distributing it. When asked which organizations and/or individuals were sent a copy of this flyer and whether or not the organization has received applications or signed notices from existing musicians about their willingness to return under unconditional terms, Ms. O'Mara declined to comment and referred the questions to Robert Birman, LO CEO.
At the time this article was published, Mr. Birman has yet to reply.
Now You See Them, Now You Don't
Likewise, the LO website does not contain any information about the "National Call For Applications" nor does it provide a copy of the flyer or any indication of the openings on its "employment" page. In fact, the latter contains a message that reads " There are no employment positions available at this time.  Please check back later."
Similarly, the musician roster page which used to be located at http://www.louisvilleorchestra.org/?page_id=24 has been removed from the website, however, Google has the page as it was on 10/19/2011 cached here. And although the direct links are no longer available, the musician bios which used to be linked from the roster page, such as this one for concertmaster Michael Davis, are still available.
Response from within the musician community to these actions along with last week's ultimatum to LO musicians on returning to work via unconditional terms have been stern. The Seattle Symphony and Opera Players' Organization (SSOPO) urged members not to accept work at the Louisville Orchestra and in a similar move, the International Conference of Symphony and Opera Musicians (ICSOM), of which the LO musicians are members, issued a memo to members from chairman Bruce Ridge with the subject "URGENT- DO NOT ACCEPT WORK FROM THE LOUISVILLE ORCHESTRA, INC."
The LO musicians issued a press statement on 10/31/2011 announcing that all but one of the musicians have refused the unconditional terms for employment issued last week by the LO. Moreover, they have reportedly notified management in writing that they are not on strike and are not withholding their services.
Nonetheless, the LO's deadline of 5:00pm CT, October 31, 2011 for musicians to acknowledge their willingness to unconditionally return to work has now passed and if musician claims that all but one of their members have refused are accurate, then the LO must presumably intend to replace the entire orchestra (save the one unknown musician position).
You Don't Want To Miss These
There are two recent articles worth your time that touch on all of this. The first is from the 10/31/2011 edition of the Louisville Courier-Journal reports in an article by Elizabeth Kramer that the musicians have "filed a complaint with the National Labor Relations Board, claiming that orchestra officials have refused to bargain in good faith during their ongoing contract dispute."
Birman calls the charges baseless and although he acknowledged receiving some of the letters referenced in the musicians' press statement, he deflected questions about the letter's content by casting aspersions on authenticity. He went so far as to imply that the musicians' negotiation committee may have forged some of the signatures.
"[Birman] did email The Courier-Journal just after 2 p.m. Monday to say that he had received the musicians' signed form letters. But he expressed concerns about some of those.

"It is curious to see that some player names are spelled wrong AND the signatures carry the same misspellings," he wrote. "It is clear that the (musicians' negotiating committee) signed some of these letters on behalf of colleagues who have left Louisville."
The second article is from Gabe Bullard in the 10/31/2011 edition of WFPL News which includes some quotes about the current dispute from LO CEO Robert Birman along with additional information about the unfair labor charge from musician spokesperson Kim Tichenor.
[sws_yellow_box box_size="640″] Postscript: On an editorial note; yes, I am aware that in the WFPL article Mr. Birman offered what might be construed as less than complementary remarks about me being a blogger. I do not intend to reply publicly to what appears to be a rather slapdash offering; however, if you're a Facebook friend, you can read my personal reply in the form of a status update from yesterday evening. [/box]