The 1/4/2012 edition of The Oregonian published an article by David Stabler that examines the Oregon Symphony Orchestra's (OSO) decision to cancel its membership in the League of American Orchestras (League). At the time this post was published, Stabler's piece has picked up a good bit of social media juice with 107 Facebook recommendations and 59 tweets.
What makes Stabler's article worth reading isn't that it simply does a good job at reporting an event, but his overview of the unusual level of transparency related to the executive process that led to the OSO's decision to leave the League.
To that end, OSO president Elaine Calder deserves a huge round of kudos for engaging Stabler on the topic and not opting for the easy way out with "no comment" or non-answer replies.
According to what Stabler reports, Calder summed up the decision as one motivated by a return on investment that fell short of expectations. In short, the orchestra identified better ways to use the $17,000 annual fee they paid in membership dues.
"I've suggested to the League that mid-sized orchestras like ours carry a disproportionate share of the League's expenses, given the way the dues are structured."

"Institutionally we are so tightly staffed that we couldn't find the time to fill in some of the League's massive surveys in the past few years – and to be honest, we didn't find the data particularly useful when the results were released."

"I've been to the midwinter managers' meetings and some of the annual conferences and found the sessions slightly more relevant but somewhat less interesting…"
Then there was the focus on League activity. Calder sums up the organization's frustration with "new model" discussions and related activity with laser-like poignancy.
"And I find the on-going discussion around the need for a "new model" dispiriting. All orchestras hire a lot of musicians on contract to perform symphonic concerts, and cover the expenses by selling tickets, raising money and building an endowment… Going to meetings and conferences can sometimes yield ideas and inspirations from one's colleagues, but there's a lot of ink or virtual ink these days on the business of running orchestras so I don't think we're falling behind."
If you're curious what $17,000 can do vis-a-vis non-artistic activity for an orchestra like the OSO [besides straightforward deficit reduction], here is a tiny representative example of how those funds could be used:
…a completely redesigned website (with ample money to spare).
…updated software licenses for basic productivity office suites.
…improvements to the CRM database.
…expanded customer service and box office capacity.
…professional development for key staff members.
…increased expense accounts for key members of the development team.
…making sure the operation department's vehicle(s) don't miss regularly scheduled maintenance.
…and much, much more.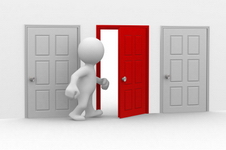 I contacted Calder to see if there was anything else she wanted to add above and beyond what was publihsed in The Oregonian and she offered up the following comment about her interview with Stabler.
"David Stabler called me and said he'd heard we were thinking of leaving the League.  I don't know where he got this information and it doesn't matter, so I told him we'd already made the decision and gave him some of our reasons.  I cherish the fact that The Oregonian still gives David column inches to write about us.  I rarely give him a "no comment" response and instead try to give him answers that he and his readers might find of interest – and help them to understand better how an organization like ours works.  As I said in the article, I think we have to find solutions that are appropriate to our community, and being as open and honest as possible with stakeholders seems like a fundamental requirement."
It will be interesting to see if any other professional orchestras follow the OSO's lead and suspend their League membership. Even if an organization doesn't arrive at a return on investment conclusion similar to what Calder described, it sometimes comes down to simply managing debt.
From that pragmatic perspective, temporarily suspending membership until the institution crosses specific revenue thresholds is precisely the sort of arrangement many orchestras have put into place via their collective bargaining agreements with regard to improvements to employee compensation. In the interim, executives, managers, and board members can purchase individual memberships at their own expense so that the organization's stakeholders aren't required to shoulder the expense.
Stabler's article also includes a brief quote from League director of media relations, Rachelle Schlosser, who indicated that the service organization's membership isn't suffering.
"There is definitely not a trend among orchestras to drop League membership and none of the Oregon Symphony's peers have done so. Renewals are occurring on an ongoing basis, and we fully expect to be at our traditional 850+ membership level."
But I'm curious to hear first hand from organizations about this. Has your orchestra considered dropping your League membership or restricting League related expenses; if so, why?
Are the OSO's actions and your own economic situation causing you to update your League membership's return on investment? If so, what are your thoughts?
[sws_toggle1 title="Update: 11:15am CT, 1/12/2012. Over the course of this morning, I've received dozens of email messages forwarding along a League memo addressing Stabler's article.  Click to see the memo."]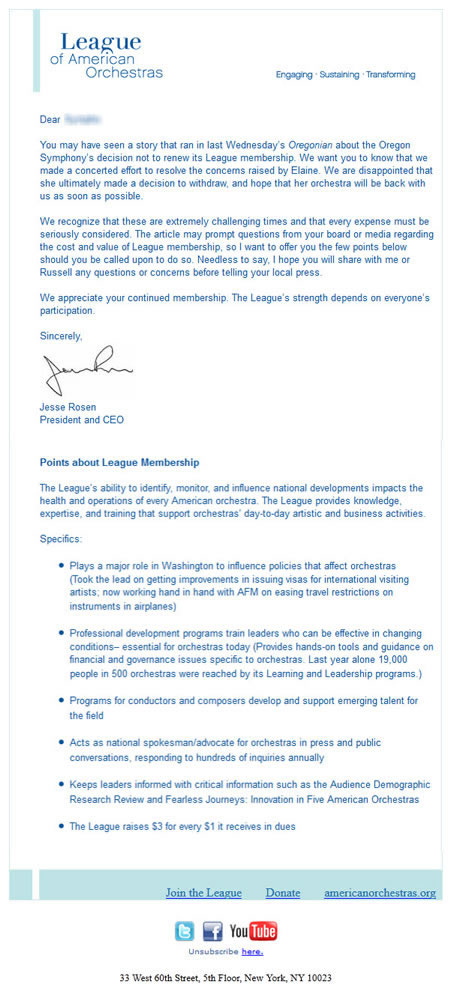 [/sws_toggle1]