I had a fascinating conversation with a colleague several weeks ago that focused on the current trend for orchestras in dire financial straits to adopt artistic activities that rely heavily on expanding into new territories. Typical jargon for this sort of behavior is "getting out of the concert hall" or "getting into the community."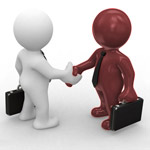 The idea is that you stop presenting so many concerts in your 2000+ seat primary venue and start spreading around the artistic wealth so to speak via a variety of new ensemble configurations so as to reach new audiences in new venues, etc. etc. etc.
These are fine ideas but what seems to get glossed over in most discussions is timing; even the best of ideas will fail a miserable death if implemented at the wrong time.
By and large, the best time to explore this sort of fighting a war on two fronts style of business activity is when an organization is at its strongest: a full staff complement, happy work environment, and cash reserves to cover the inevitable high cost structure of breaking into new markets with new activity. Remember, the Met launched their HD simulcasts in 2006, at the height of the artificial cheap money housing bubble.
Consequently, it's puzzling to see groups with decimated staffs that are both overworked and demoralized expect that those same administrators are going to be able to keep the current plates spinning while adding several dozen more.
Even more puzzling are groups that expect stakeholders to rally around the new plan with unilateral buy-in.
As luck would have it, not long after my conversation mentioned at the onset of this post, Scott Adams published a Dilbert comic that sums this entire discussion up in three elegant panels. And since licensing the actual comic strip far exceeds this blog's budget, here's a homemade knock-off reenactment (but thankfully, you can read the name-brand version here: http://dilbert.com/strips/comic/2012-02-08):

So the next time you hear talk in your organization about these sorts of new business activities hot on the heels of yet another round of budget cuts and musician negotiations on the horizon, take a moment to send around an inter office email with a link to the Dilbert cartoon. You may just save the entire organization!