On 2/29/2012, the Philadelphia Orchestra Association (POA) issues a two page press statement announcing a multi-year contract renewal for President and CEO Allison Vulgamore. Music critic Norman Lebrecht reports that the deal will require approval from the bankruptcy court then, in turn, refers to an article on the matter by Philadelphia Inquirer music critic Peter Dobrin for the "gruesome detail."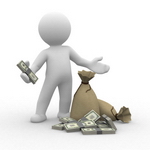 And Dobrin doesn't disappoint when it comes to details. According to his article from 3/1/2012, here are some of the terms that POA board chairman Richard B. Worley calls "fair and reasonable" for an organization in bankruptcy:
A "performance-based compensation" cash bonus of between $50,000 and $150,000 per year.
POA board chair has the discretion to increase the maximum bonus to $175,000.
A retirement contribution of $125,000 per year, less applicable withholdings.
Up to $15,000 per year for supplemental disability insurance.
"Executive health benefits" of up to $10,000 per year for costs not covered under the group plan.
A car allowance of $5,000.
Free parking at the Kimmel Center.
Four weeks' paid vacation.
$2,000 a year to pay a financial planner.
A one time, $50,000 bonus to be paid by June 2012 as part of an earlier bonus program for which she had not yet received payment (related details here).
According to Dobrin's article, Vulgamore was "was unavailable for comment" but she did send an email message to POA musicians informing them of her contract extension approximately 40 minutes after the organization released the press statement. Several sources from POA musicians and administrators forwarded copies of the email memo.
So what do you think? Did Lebrecht adequately sum up the announcement? Do you think the bankruptcy court should approve the contract extension under the proposed terms?
[ilink url="https://adaptistration.com/wp-content/uploads/A-Vulgamore-Contract-Renewal-Press-Release.pdf" style="download"]Download pdf press statement.[/ilink]