The 6/11/2012 edition of the Washington Post reports that the Pittsburgh Symphony Orchestra (PSO) failed to find an acceptable candidate as the winner of its YouTube powered soloist competition. For those unaware, the PSO's program was not entirely unlike many reality television driven talent competitions, the goal of the competition was to locate up and coming talent not already represented by established agencies (CAMI, OPUS3, etc.).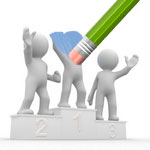 This was a sincerely intriguing effort in that one of the issues discussed behind closed doors in the field is the totality of control artist agencies have in determining which musicians become soloists and those who don't.
Conductor and piano soloist Bill Eddins published an article that touches on this topic back on 4/26/2011 and he was frank in his assessments over the degree of control artist agencies exert over the field.
…which leads to Artist Management companies. They make money off of the chosen few, they push said conductors (and soloists) onto the A list, hype the living bejesus out of them, plaster their photos everywhere, charge ridiculously exorbitant fees for the briefest of appearances, and then pretend they're doing this business a favor. I recently read Bram Stoker's Dracula for the first time. God help me, but all I could think of was that if the monster survived he's probably running a management company in New York City right now. The Über-Management's exploitation of young artists and B-listers makes the slave trade look borderline ethical.
Nonetheless, the PSO's decision to refrain from declaring a winner might be enough to spark more than a few self satisfied chuckles among artist agents.
In the end, it would be good to see the PSO give the program another run to see if lessons learned from the first effort can produce desired outcomes.