There aren't a lot of things you can count on in this business but one thing that's sure to deliver a dazzling display of passionate pyrotechnics is getting people to talk about programming. Case in point, conductor Bill Eddins recently published a pair of articles at Sticks and Drones suggesting the predominance of Second Viennese School compositions throughout the course of the 20th Century may not have been the best thing for classical music; especially large performing arts organizations, like orchestras. And thus the gates of Hell flew open.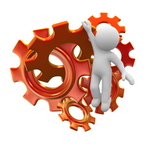 Eddins' first post, IT'S SCHOENBERG'S FAULT!, generated a number of comments, some of which were rather thoughtful and mild mannered but the bulk of responses were of the pyrotechnic persuasion. There was much virtual gnashing of teeth, name calling, and liberal doses of hyperbolic rhetoric. In short, those who shared an opposing view were none too pleased and had no problem expressing said displeasure.
This post was followed up by No One Expects the 12-Tone Inquisition!, where Eddins expands on the original post by examining what he sees as the basis for such a strong reaction to the original article as well as expanding on what he defines as the problem with classical music orthodoxy (spoiler alert: the posts were more about the relationship between classical music's relationship to the audience and the world around us).
If you love talking about this stuff, you're going to revel in both posts and the subsequent comment threads.