There's nothing quite like experiencing three shows of Bugs Bunny At The Symphony in the space of two days, which is precisely how I spent the past weekend here in Chicago. It was particularly fun to sit in the audience and take in all of the ambient chatter.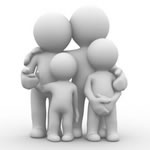 There were no shortage of families with parents pointing out instruments and introducing kids to the concert hall and there were more than few adults attending their first live orchestra concert. One elderly gentleman with his grandchildren approached an usher to mention he had lived in Chicago his entire adult life but this was his first time inside Symphony Center. That was followed by a string of questions about the architecture, building history etc.
But one story of note occurred after that evening's performance while catching a late dinner with the show's creative team, conductor George Daugherty and Executive Producer David Ka Lik Wong, and this series' pair of concertmasters (full disclosure mode: one of which is my wife).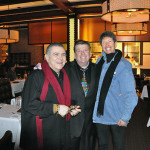 After settling in at the table, we were approached by an absolutely charming couple who had attended the show. They asked Daugherty for an autograph but also wanted to tell him that they became regular Chicago Symphony Orchestra subscribers following the first time he brought the show to Chicago more than a decade prior.
After 23 years, the show is launching a major update for the 2013-14 season; branded Bugs Bunny at the Symphony II, it already has shows scheduled at The Hollywood Bowl/Los Angeles Philharmonic, Wolf Trap/The National Symphony, Symphony Silicon Valley, The Minnesota Orchestra, The St. Louis Symphony, The Hong Kong Philharmonic, The Edmonton Symphony Orchestra, The Pittsburgh Symphony, The Detroit Symphony, The Wichita Symphony, and more.
It's comforting to know the show continues to evolve and adapt but remain firmly entrenched in everything that makes it a wonderful entry vehicle into the world of live orchestral classical music.
Postscript: Daugherty authored a wonderful contribution for 2012's Take A Friend To The Orchestra initiative; it's an absolute must-read.