My blogging colleague, Joe Patti, published a wonderful article on 1/23/2013 titled Letter To The President On The Occasion of His Second Term. I had originally planned to join Joe with a letter of my own but work has kept it in draft form but I am bound and determined to get it finalized and published this week.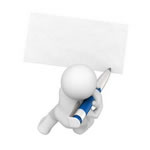 In the meantime, it seems clear that readers genuinely care about a politician's position on the arts; two of the most popular
posts at the end of 2012 touched on the value of a candidate's position on arts and arts education funding.
Consequently, now that the elections are over and President Obama has been sworn in for a second term, I'm very curious to know what you would write to him, or any of your elected representatives, regarding the arts. Take a moment to leave your thoughts in a comment below.