Here's a little something today for anyone looking for some good news. National Symphony Orchestra (NSO) principal trombone, Craig Mulcahy, recently underwent rotator cuff surgery on his left shoulder which will leave him without the use of that arm for anywhere from three to six weeks. Although that's usually enough to get any good musician down, Mulcahy decided to figure out a meaningful solution for practicing.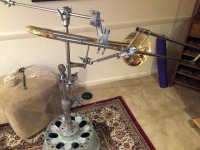 If you've ever watched a trombone player in action you've probably figured out by this point that the loss of an entire arm is pretty much a showstopper and in pretty much every other case, you would correct. However, in this instance, Mulcahy started off with half a wheel from a Boeing 737, a landing gear actuator, and ended up with a solution that will allow him to maintain his playing edge and keep the melancholy at arm's length.
And demonstrating what might be best characterized as a crazy-intense work ethic, he gave the stand its first real-world application a few hours after getting home from surgery.
For those curious about the details, Mulcahy says the actuator is attached to the wheel with two 1/4″ thick pieces of aluminum that he cut into matching size discs. They're held together by six nuts/bolts; one disc on top and one underneath. There are straps anchoring it to a futon frame with an additional 45lb weight for added support which helps minimize wobbling.
The landing gear actuator is height-adjustable as is the percussion boom. There are two percussion clamps; one joins a commercial designed support stand from ERGObrass and the other suspends the bell section and has fully adjustable angles.
If nothing else, so long as the field has resourceful and creative people like this around, we shouldn't have to worry too much about death of classical music.