One year ago, we examined the latest offering from online ticket provider Eventbrite (EB) in the form of their reserved seating feature and on 3/23/15, they expanded on this with a full-fledged individual seat selection functionality.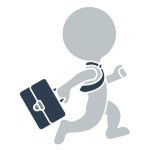 Geared very much toward performing arts orgs and presenters, the expanded offering includes the same dynamic seat map creation tools as the existing reserved seating solution. Having used the tool on a number of occasions, this is one area where Eventbrite is leaps and bounds ahead of other ticketing providers. Likewise, having used the individual seat selection feature via both frontend and backend, I can also say that it provides an entirely positive UX that is user friendly across all demographics.
Here's how Eventbrite describes the expanded features:
Fast, easy registration experience—attendees can pick their own seats or get the best assigned seats.
Easily Manage Seats. Add more seats and tickets, and move guests around, all at no extra charge.
Seat availability updates in real-time as they are taken by others, encouraging ticket buyers to select their seats as quickly as possible.
Save and crowd-source seat maps by other organizers
Integrate with other Eventbrite tools to set up discounts, access sales data and reports at any time, and all of the additional features Eventbrite currently offers.
Increasingly Performing Arts Org Focused
It isn't difficult to see that Eventbrite is making a move into the performing arts and presenter market. To that end, they recently launched a dedicated segment of their existing Event Academy education outlet that focuses exclusively on arts org related issues. Branded Arts & Entertainment Industry Insights, their initial offering came in the form of an R&D report about millennial arts audience ticket buyers.
One interesting metric from that report is an overview of reasons that would inspire millennials to attend more events.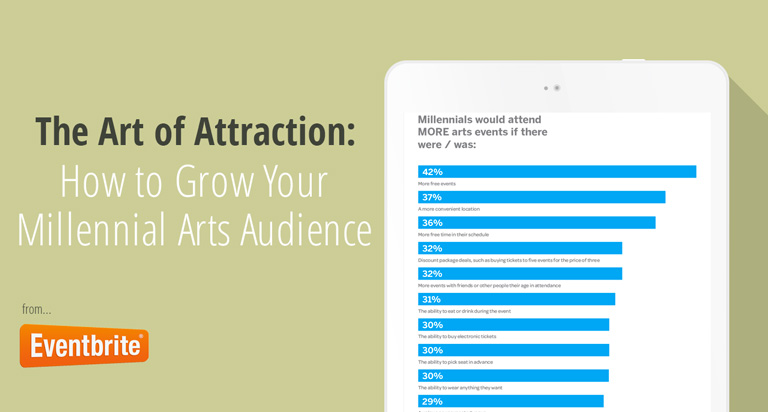 Undoubtedly, it is good to see mainstream providers like Eventbrite focus on the unique needs of performing arts orgs and the individual seat selection feature crosses one of the to be or not to be thresholds. Having said that, they haven't crossed the finish line yet and in order to do that they will need to address the following needs:
Incorporate the capacity to sell subscriptions. In addition to selling annual subscriptions, Eventbrite will need to provide the ability for current subscribers to retain specific seat selections from one season to the next as well as the ability to provide special subscriber only access to purchases, discounts for additional single tix sales, and the host of additional traditional subscription features.
Improved CRM integration. Short of offering up an acceptable integrated CRM solution (which is possible but I wouldn't count on it), Eventbrite will need to make it much easier to sync and/or export data with existing CRM solutions utilized by arts orgs (albeit not always in their best interests).*
Improved loyalty reward features. As examined in a post from 1/30/2015, although old-school subscriptions aren't going anywhere anytime soon, there is a dire need within the field for a ticketing provider to offer meaningful loyalty reward style features capable of supplementing existing subscription offerings.
Improved API. If Eventbrite really wants to cut existing ticketing providers off at the knees and begin cornering the long tail market, they will need to take API development in a very new direction. More to the point, they need to focus on integrating with open source publishing platforms that provide a one-site, one-shopping cart user experience that relies on making the functionality between the website and Eventbrite nearly seamless. As of now there are no providers that make this possible which means the market is a very wide open frontier just waiting for pioneers.
An Important Caveat
According to one of Eventbrite's blog posts from 3/23/15, the individual seat selection feature is unfortunately not yet available for platform specific mobile app and until it is, arts orgs may want to remain in a holding pattern before jumping in. To that end, Eventbrite does not have a firm date for rolling out that feature, nonetheless, if they can get it up and running ASAP, then arts orgs that typically wait to make single ticket sales available until August or later may want to consider switching over to Eventbrite.
In the end, Eventbrite's latest offering should make them a more competitive and attractive solution for arts orgs that either don't rely on traditional subscriptions or are capable of processing those ticketing orders internally (something a surprisingly large ratio of smaller and even middle budget orgs still do).
In the meantime, I'm very curious to know if any arts org readers starting using Eventbrite following the post from 5/15/14 and if so, what are your impressions since making the move.
*As an aside on this point, it would be fascinating to see Eventbrite move toward becoming a dedicated CRM/Ticketing provider with a service that replaces their current nonprofit pricing of [2% + $0.99] + 3% per ticket sold with something along the lines of tiered processing prices. Granted, Eventbrite's fees (even for nonprofits) are fairly high but that's the other side of the coin where everything else they provide is free. But if there's real interest on their part to capture a larger share of the nonprofit performing arts org market, they'll need to rethink their pricing and service strategy lest they be relegated to the status of small budget provider.