The 4/24/15 edition of The Nonprofit Times published an article (h/t Thomas Cott) that reports on a 2015 Nonprofit Email Deliverability Study that determined approximately one out of eight email messages from nonprofits are not successfully delivered to an inbox. My immediate thought was "that figure seems low."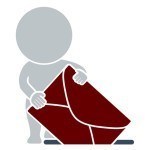 I can't count the number of times in the course of consulting projects where I've come across performing arts nonprofits that haven't conducted a thorough non-responder test of email lists in years. Ironically, most groups have a sense of pride over the number of names on their lists but for most, that bubble would be quickly burst in the wake of one reasonably executed non-response test.
Fortunately, most good email marketing providers, like Mailchimp, make it as easy as possible to conduct tests and segment your non-responders into a separate list (because let's face it, arts marketers are apparently hoarders at heart since most can't delete an email address from a list no matter how dead it is). If you need some additional help, ArtsHacker Ceci Dadisman published an article on 2/23/2015 that examines a third party service from BriteVerify that offers nonprofit discounts and can cost as little as $0.01 per address.
In the end, there's no good reason you shouldn't set aside some time to identify and clear out your non-responders and start getting more out of your email marketing efforts!