I'm excited to announce that I'll be leading a session at the 2015 National Arts Marketing Project Conference (#NAMPC) in Salt Lake City, November 6-9. The Energizing Technology track session, Click. Click. Done. Developing Your Google Analytics Skills, will focus on the nuts and bolts of metrics and is designed as detailed guide for understanding the default reporting tools inside Google Analytics (GA) and how to set up straightforward, yet remarkably effective, custom reports and dashboard tools.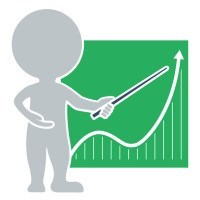 Joining me on the panel are a pair of GA rock stars; Ceci Dadisman and Marc van Bree.
Arts marketing pros of all levels will find a mountain of click, click, done goodness. Think of it like a live, interactive ArtsHacker session with so many practical takeaways it may very well be illegal in some states.
Additional details about the session and panelists will be released soon and you will be able to register for #NAMPC 2015 in the very near future. Make sure you're on their mailing list so as not to miss out on when registration opens and news on any potential early registration perks.
In the meantime, make sure you save the date, ask give your exec a head's up on needing the time to attend and setting aside a professional development budget allocation so you can jump on the registration once the folds at #NAMPC make it available.