Among the well-worn topics in this field at the top of my avoid-at-all-costs conversation list is whether or not to allow patrons to use their cell phones during performances. Having said that there were some fascinating stats during Jason Fahlstrom's Selling Out: Understanding The Path To Purchase For Performing Arts session at the 2015 National Arts Marketing Project Conference (NAMPC).
Fahlstrom is a Senior Consultant at Google and they track the sort of live events and touring industry data you would expect a company like Google to compile and among the nuggets he tossed out from his session was one in two attendees look up future show info while at the performance.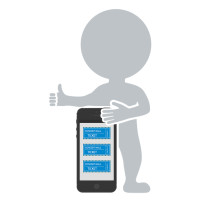 There was mention that this bit of data included a time frame that precluded this from being limited to only scheduled breaks such as intermission and as a result, begins to beg a lot of new questions along with introducing a number of long standing concerns.
What would be even more helpful to know are type of events, conversion paths, and conversion rates* along with how often patrons engaged in this behavior at the same venue.
But if the conversion rates are high enough, it introduces a new variable into the mix when juxtaposing creating an environment for artistic excellence and potentially increasing earned income by double digit leaps. No one enjoys a policy discussion driven solely by the bottom line but I know that I expected the 50 percent figure to be much, much lower; consequently, it certainly makes me willing to reconsider re-examining points that would have otherwise been closed.
It will be good to see if Fahlstrom will include any detailed notes from his presentation along with the slides once NAMPC makes that content available.
In the meantime, I'm curious to see what you think via this little poll.
This Survey has expired.
*BTW, how easy is it for your patrons to buy tix on their phone – odds are, not very good.