If you were a music director (MD) during the 2013/14 season, odds are you generated pretty much the same amount of income as the previous season. Having said that, you may have also enjoyed one of the largest average increases in the past 15 years. Confused? Don't worry, you should be as it was a very odd season for MD compensation. But first off, let's cover some of the basic info related to where the compensation figures comes from.
The Information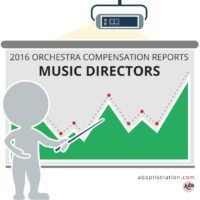 In order to provide information that is as accurate as possible, info from the 2013/14 season is gathered from the following sources:
Music Director compensation figures were obtained from their respective orchestra's IRS Form 990 for the 2013/14 concert season.
Total Expenditures were also obtained from each respective orchestra's IRS Form 990 for the 2013/14 concert season.
Adaptistration makes no claim to the accuracy of information from documents compiled or reported by external sources. If you have reason to believe any of the information is inaccurate or has changed since reported in any of the above sources and you can provide documentation to such effect, please feel free to use the following form to submit a notice.
What The Numbers Don't Show
It is important to remember that the numbers shown do not always convey a complete compensation picture. For example, a music director may have had a large increase in salary because they were leaving a position and per terms of their contract they may have received a sizeable severance or deferred compensation package. As such, the cumulative compensation may artificially inflate annual earnings. Furthermore, these figures may not reflect bonuses or other incentive payments, therefore underreporting what conductors may actually earn.
Also missing from the figures are expense accounts, lodging expenses, and other perks; as such, the cumulative compensation for music directors may or may not be more than what is listed. Additionally, the documents used to gather data do not indicate how much of the season an individual received a salary. As such, excessive adjustments in the percentage change from the previous season's compensation may be artificially adjusted. Although the music director compensation figures include the combined amounts reported as what the IRS classifies as "compensation" and "contributions to employee benefit plans & deferred compensation," each orchestra does not always report figures for the latter category.
How Terms Impact Compensation
Unlike executives, concertmasters, and musicians, music directors are sometimes employed as private contractors. In these cases, orchestras will list the music director among the five highest paid private contractors as opposed to sections devoted to employee compensation. In most of these instances, no information about benefits or deferred compensation is available.
Likewise, some music directors receive separate payments for duties associated with their position. For example, for several fiscal years the Seattle Symphony Orchestra paid former music director Gerard Schwarz via two separate private contractor listings: once for music director duties and the other for principal conducting duties. At the Chicago Symphony Orchestra, when Daniel Barenboim was with the organization, he was often paid separately for music director services and then again as conductor and soloist.
In instances such as these, those figures have been combined into a single figure in the table below. For details about each individual conductor's compensation, please consult the orchestra's respective IRS Form 990.
The Trend Continues
One unusual occurrence that began with the 2012/13 season was an uptick in the practice of a paying music director part of his/her compensation as a private contractor and part as an employee. This is a bit different than the scenarios listed above in that there is not always the same degree of explanation surrounding duties and responsibilities assigned to both types of compensation. The 2013/14 season continued this trend with a few more organizations following suit.
Let's Get To The Heart Of What Makes This Season Different
Simply put, the 2013/14 season shattered all previous records for all time high music director compensation. This was thanks to the Dallas Symphony Orchestra (DSO) paying music director Jaap van Zweden $5,110,538 (via his company, Bajada Productions LLC, as can be found in Part VII, Section B. Independent Contractors).

Previously, the highest single season compensation outlay was $3,291,791, paid to Lorin Maazel during his final year as music director at the New York Philharmonic.
In order to confirm the $5,110,538 figure was accurate, I contacted Denise McGovern, DSO Director of Communications. According to Ms. McGovern, the $5,110,538 payment to Bajada Productions LLC is correct.
"Regarding Part VII, Section B: the Music Director's salary for 2013 was $1,788,997, with the bulk of the remainder being a signing bonus for a long-term contract extension executed in 2013," Ms. McGovern wrote in an email message. "The long-term contract extension now goes through the 20/21 season and includes three years as conductor laureate. The bonus amount was funded entirely by a restricted gift given exclusively for this one-time occurrence. The bottom line operating budget of the Dallas Symphony Orchestra was not affected at all."
If you haven't done the math yet, that's a $3,321,541 signing bonus; nearly double his salary for that season. If you look at just the salary portion of his 2013/14 compensation, it still came in at $283,945 more than the 2012/13 season (nearly a nineteen percent increase).
2013/14 Season Music Director Compensation

Top 10 Earners
Perhaps unsurprisingly, the Top 10 list was shaken up a bit thanks to the new record breaking DSO compensation.
Dallas Symphony: $5,110,538
Chicago Symphony: $2,309,837
National Symphony: $2,274,151
San Francisco Symphony: $2,105,920
New York Philharmonic:     $1,751,570
Los Angeles Philharmonic: $1,661,493
Saint Louis Symphony: $1,043,313
Cleveland Orchestra: $977,496
Baltimore Symphony: $914,747
Detroit Symphony: $800,957
Additional Irregularity
The Spokane Symphony continues it alarming trend by once again failing to list its music director as an employee or an independent contractor. Requests for compensation data or reasons why it was not listed were ignored.
Update 7/3/2016: in an email, a representative of the Spokane Symphony indicated their music director was paid $130,000 in salary for the 2013/14 season. It is not known if the music director was paid as a private contractor or an employee. If the latter, there was no indication if that figure is for salary only or if it represents the cumulative amount that must be reported via executive compensation (and the figure used for these reports).
Food For Thought
The Orchestra Compensation Reports have always been designed to provide a dispassionate overview of key stakeholder remuneration. This information is designed to get people thinking about the current system of nonprofit governance and how it relates to setting compensation levels. In essence, it's a system that is entirely self-governing with no independent oversight and when combined with an environment where just about everyone is working harder than ever before, how the task of accountability and review become easily co-opted by the lure of rewarding effort over achievement.
In the end, it is important for stakeholders and the community in general to have a better understanding of what's involved with maintaining a professional orchestra and insist on accountability. Questions lead to transparency and ultimately (hopefully?), improved governance.