Yesterday's post about the Baltimore Symphony article archive got me thinking about all the issues over the years this outlet has tackled. While accomplishments are always gratifying, it's the topics that feel more like failures that seem to linger longest.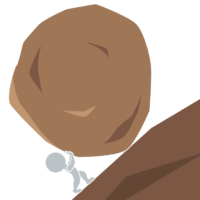 Granted, that's far from a unique trait but the serenity prayer in today's title made me wonder if I'm a little too low on the wisdom meter to know if I've crossed the Sisyphus line.
One topic that leaps to the front of that list is equal pay for equal work.
It started off focused squarely on substitute orchestra musicians getting an increasingly shorter end of the stick but has, sadly, branched out into increasingly public examinations of sex-based pay discrimination.
Sex-based pay discrimination is something that will hopefully be well served by the ongoing Elizabeth Rowe lawsuit. But when it comes to substitute musicians earning equal pay on a per-service basis to their peers who are salaried members of the orchestra's compliment, there's more bad news than good.
In order to find if we're just spitting into the wind, I've started reaching out to some individuals in positions that can weigh in with more than mere anecdotal evidence. I've invited them to have a recorded discussion on the topic that will be published here once complete.
Stay tuned.