I have to admit that the whole Golden Age vs. the Prophets of Doom nonsense put me in a bit of a cynical funk over the past week but it worked out for the best as that sarcastic energy was channeled into something creative. I've been updating the graphic designs at most of the Inside The Arts blogs and the latest round of pixel pushing was Joe Patti's Butts In The Seats blog. One idea led to another and the end result was a new mascot that pokes a little fun at the declinism perspective…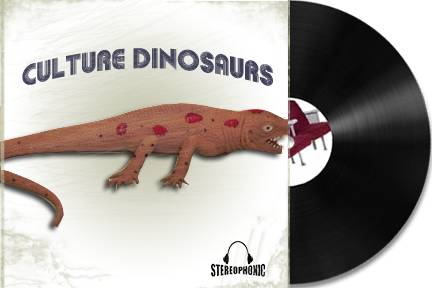 For those who love minutia, the lizard dino is actually a pic from an item on Joe's desk and the record label is his favicon image.
I've been singing Joe's praises for years now and that enthusiasm hasn't changed a bit. If there was ever a culture blogger that challenges the idea that the arts, as we know it, are dying; it's Joe. Year after year, he continues to post a string of thought provoking content and hands-on resource info to make any arts professional's job easier. Moreover, he reaches a very broad audience within the arts administration field so it doesn't matter what medium you work, you'll find Joe's material useful.
So if Butts In The Seats isn't already in your RSS feed or daily reading list, stop by and bookmark site. You'll be glad you did.