There's no particular reason why but the whole "best of/worst of" year in review stuff just doesn't hold much fascination this year, which is why there isn't anything going on here along those lines. But there is one year-in-review piece out there from conductor Bill Eddins that got my attention and it's worth your time.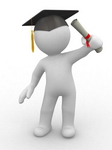 In particular, Eddins grades a handful of organizations based on his perception of the respective institution's comprehensive performance (meaning, not just artistic). His assessments are pretty much spot on although his grades for Detroit and Philly might be considered generous by some.
Definitely take the time to give it a read and make sure no one tells the League of American Orchestras about it; they take great umbrage when anyone grades or ranks orchestras (come to think of it, pretty much anything remotely resembling comparative assessment is verboten).
[sws_button class="" size="sws_btn_large" align="" href="http://www.insidethearts.com/sticksanddrones/2011/12/30/billeddins/3545/" target="_self" label="Read Eddin's 2011 Report Card" template="sws_btn_lightblue" textcolor="" bgcolor="" bgcolorhover="" glow="sws_btn_glow"] [/sws_button]