According to an article by Zoe Fox in the 8/8/2013 edition of Mashable.com (h/t Ceci Dadisman), they may not have been the plankowner generation for social media but the over 65 demographic is now the fastest growing group to embrace it. This new data could indicate major shifts in arts marketing assumptions for an audience that conventional wisdom (there it is again) likes to point out is grayer than ever.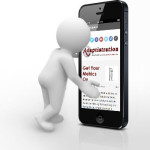 The over 65 group routinely shoehorned as luddites and as a result, tend to receive the least amount of attention when it comes to digital arts marketing efforts but this new data, compiled by the Pew Research Center, clearly demonstrates that this group may catch up to current averages for all social media users within the next few years.
And when you take the typical season planning schedule into consideration, it means orchestras have about 14 months to incorporate it into their strategic marketing plans if they want to stay with the curve.
So what are you waiting for sonny; gammy and pop-pop are on FaceTweeting, why aren't you reaching out to them? #whippersnapper
[ilink url="http://www.pewinternet.org/Reports/2013/social-networking-sites/Findings.aspx" style="note"]Read the Pew Research Center Report: 72% of Online Adults are Social Networking Site Users[/ilink]