It isn't often we get to revisit a topic more than eight years later but it looks like the long running legal dispute between composer Nathan Currier and the now defunct Brooklyn Philharmonic is finally resolved.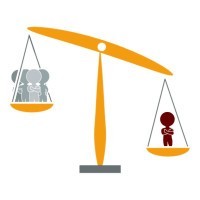 When we last examined the dispute in 4/14/2009, we discovered a debacle of a new music commission project that ended up with the orchestra stopping the premier of Currier's Gaian Variations without performing the entire work. At that time, it appeared that quite a few of the problems were the result of inadequate artistic planning policies and in the wake of the ruling, that still seems to be the case.
If nothing else, this dispute underscores just how valuable well trained and effective artistic administrators are to a professional orchestra's success.
If you aren't already familiar with artistic administrators, they tend to be responsible for making sure all of the logistical considerations for artistic planning are implemented and to facilitate communicate between related departments. In short, they help make sure an organization can manage production costs while meeting the vision from artistic leaders.
I used the word "tend" because artistic administration positions are some of the most loosely defined jobs in the field. Moreover, a number of orchestras don't maintain formal artistic administration departments and it isn't unusual to groups without a single dedicated artistic administrator.
In those instances, the duties tend to be distributed across executive and operations departments.
Consequently, it isn't terribly surprising to see show-stopping errors occur more frequently among low to mid-budget size orchestras thanks to no other reason than they don't have the depth of administrative resources available to their larger budget peers.
If nothing else, Currier's dispute with the Brooklyn Philharmonic is an excellent example demonstrating the need for similar budget size orchestras to go about artistic planning for new music projects with more care and additional planning resources than what is typically assigned for traditional repertoire.
Postlude
One interesting bit of new news related to the Currier suit is an additional filing he made in 2015 against the AFM Local 802 over rights to use the recorded performance. According to an article written by the attorney who handled the case for the musicians' union, Harvey Mars, Esq., both parties reached a settlement that allows Currier to steam a recording of the performance through 2024.
The [Brooklyn Philharmonic], in the winding down of its affairs, gave Local 802 the ability to settle [Currier's] suit. It assigned Local 802 the right, title and interest of the "Gaian Variations" recording. With the assistance of the AFM's electronic media division, we settled with Currier by permitting him to sign the AFM Internet Agreement. This settlement will give Mr. Currier the ability to stream his recording for the next seven years.