Thanks to everyone who contributed to my matching gift fundraiser I mentioned in last Friday's post. Thanks to the generosity of donors, it raised $1,000 and reached 200% of the original goal!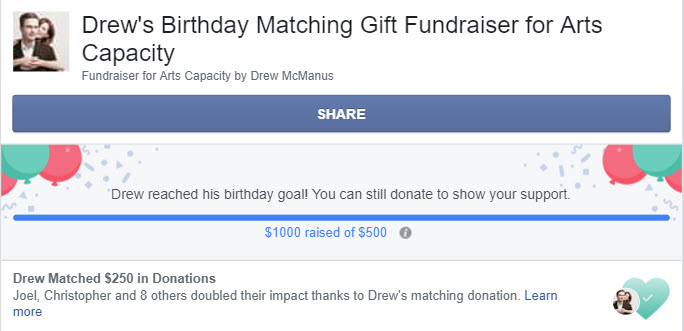 This amount will fund 1/3 of a prison recital program from Arts Capacity, which helps people in need through the power of live music and art to cope with challenges and develop the capacity to experience change for good. It is enormously gratifying to know that something like a social media platform fundraising tool can be used to support that much of a nonprofit's mission driven activity.
If you missed the matching gift fundraiser, fear not, you can support Arts Capacity's mission by donating online directly at their website. If you aren't already familiar with their work, I encourage you to visit the Arts Capacity blog where they chronicle their work developing and implementing program activity. You'll find everything from their inaugural program in 2016 through the most recent program last month.
Baltimore Symphony News
On Thursday, 5/30/2019 the Baltimore Symphony Orchestra's (BSO) executive leadership decided to drop a bombshell on stakeholders by cancelling its entire summer series of concert events. Using the heading "fiscal reform and improvement efforts," the BSO published a press statement announcing the decision to cancel the entire summer series as well as turn down $3.2 million in emergency funding approved by the Maryland state legislature.
We'll be examining that decision in a future article.
In response to the announcement, the musicians released a press statement asserting the executive leadership has informed them they will not be paid after June 16, 2019, the date their summer season was scheduled to begin. This point has been challenged, but not entirely refuted, by BSO spokespersons.
The musicians also made an appeal to stakeholders from the stage during a regularly scheduled concert event on 5/30/2019.
They also performed "Nimrod" from Edward Elgar's Enigma Variations, which is typically played by orchestras to honor the death of one of their members or mark a tragedy.
Rest assured, we'll be examining this in far greater detail but as of right now, the situation is very fluid. All signs indicate June 16 will be a critical date and between now and then, the organization will continue to negotiate for a new collective bargaining agreement that will codify how the orchestra's future will unfold.