Between 10/12/11 and 11/04/11, 14 professional orchestra websites were examined and ranked by how well they presented their concert schedule, sold tickets, facilitated making donations, provided organizational information, utilized dynamic content, and on overall content and functionality on both desktop and mobile platforms.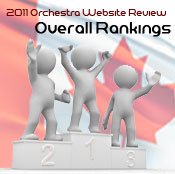 Keep in mind; the websites were not examined on the subjective basis of color schemes, graphics, or other aesthetic qualities except in cases where those elements hindered functionality. Consequently, the reviews are not only fair but based on a set of quantifiable criteria, all of which allows orchestras of varying budget size to be evaluated on an even playing field.
It is also worth keeping in mind that the 2011 reviews employed an expanded set of evaluation criteria (details) along with measuring how well sites performed on a variety of mobile platforms. And given the weeklong gap between the US and Canadian reviews this year, it would be worth your while to visit the 2011 evaluation criteria article so as to better understand the changes and how they impacted overall scores.
Canadian orchestra websites were evaluated using the very same criteria used for the US evaluations with one notable exception; the Canadian review does not include the Institutional Transparency sub category. This is due to differences between federal laws governing tax forms and public transparency requirements.
[quote style="boxed" float="right"]Kudos to the Edmonton Symphony for taking top honors this year.[/quote] Although the #1 spot remained unchanged, the remaining positions experienced a fair amount of shifts. And much like the US reviews, overall scores were noticeably lower; only one orchestra managed to score over 70/100 and only three groups earned at least two out of five stars.
The primary reason for most orchestra's diminished performance was due in large part to the following issues:
A lack of direct buy tix links for events featured on the landing page.
A convoluted donation shopping cart (some systems actually required users to remove ticket purchases before they could add a donation).
Inefficient optimization for tablet platforms.
A lack of search features and/or sitemaps.
Lackluster and sparse education content.
Concert calendars that displayed nothing more than an event's name (no what/where/when details, no "buy tix" link, etc.).
 Tomorrow's article will examine detailed category scores and survey results for each orchestra in addition to analyzing scoring trends over the past five years.
Canadian Website Homepage Gallery
Following in the footsteps of the US reviews, I wanted to be certain to include an image gallery of the Canadian website homepages. Of all the review years, 2011 saw the highest number of homepage redesigns. Can you see some of the items listed above that contributed to lower scores? Remember, look past the aesthetics and focus on the content (or in some cases, lack thereof).