Although it might not make Michael Kaiser or Rocco Landesman very happy, the growth of citizen critics and independent reviewers is beginning to have an undeniable impact on performing arts organizations. Case in point, Holly Mulcahy published an article at Neo Classical today titled Yelp Me Out which examines orchestra reviews at the social media oriented review website, yelp.com.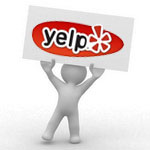 It's a fascinating article that demonstrates the benefits of letting go of control and encouraging ticket buyers to post concert event feedback at an independent platform. Go give Mulcahy's article a read but make sure you do your own orchestra oriented digging around at Yelp as well.
I've been doing exactly that for the last several days and one observation that sticks out in my mind is how frequently Yelp reviewers focus on non-artistic elements of the concert experience.
Sure, there are plenty of music critic oriented observations but there's a wealth of useful feedback covering everything to from parking to customer service. Sure, some of these issues are out of an organization's hands but the Yelp reviews provide some useful ammunition when negotiating with venue owners or nearby business.
As for the box office complaints, one of the common themes among reviews was displeasure over fees and return/exchange policies. Fellow culture blogger Lisa Hirsch has followed this issue in a number of posts, most recently in an entry from 11/17/2011 which examines exchange policies at the San Francisco Symphony and Opera.
But what's also worth noting in Yelp reviews is what Mulcahy's article defines as a lack of interaction between orchestras and Yelp reviewers.
A fantastic feature that Yelp offers is the ability for companies or businesses to communicate with members by leaving responses to individual reviews. I did not look at every single orchestra in the country, but as of today, the only orchestra I found that took the time to respond to reviews and communicate with Yelp members was the Boston Symphony Orchestra. Whoever "Matt H. of Symphony Hall" is, he should be applauded for his diligence in responding to most Yelp members who took time to leave a review.
I'm going to go out on a limb and guess that "Matt H." is Matthew Heck, Office & Social Media Manager at Boston Symphony Orchestra and if I'm correct then kudos to Heck. Mulcahy is right, he should be commended and every other orchestra out there should follow his lead and make a habit out of interacting with Yelp reviewers whether it is just to say thanks or provide some assistance.
All of this reminds me of another review oriented website, tripadvisor.com where it is common for hotel managers to respond to negative reviews and encourage the reviewer to get in touch. The smart hotel reps aren't defensive, even when a reviewer is clearly being catty and if you follow some of those threads, you can find instances where a negative review was edited to include the positive impact of the post-reservation interaction with the hotel rep.
Lastly, one disappointing aspect to all of the Yelp orchestra reviews I came across is how few there were compared to other arts organizations, here's a small sampling:
Detroit Symphony: 20 reviews (Max M. Fisher Music Center had zero).
New York Philharmonic: 11 reviews (Avery Fisher Hall had 26).
Philadelphia Orchestra: seven reviews (Kimmel Center for the Performing Arts had 67).
Utah Symphony & Opera: four reviews (Abravanel Hall had five).
However, there were a few bright spots such as the San Francisco Symphony had 140 reviews and Boston Symphony had 109 (although mostly as "Symphony Hall), and Chicago Symphony had 81 reviews.
In the end, something like Yelp can seem like a big gamble to a field that, on average, engages in very restrictive communication practices. But there's real benefit in letting go of that control and realizing that in the eyes of single ticket buyers, we're a in competition for ticket buying dollars just like any other form of entertainment.
Now It's Your Turn
Here are three simple action items everyone should try before the end of the season:
Make sure your orchestra is listed at Yelp and open a free business account (maybe even create a Yelp Deal).
Pick a concert or two to encourage ticket buyers to leave a review; include a QR code on tickets and/or program books, post something at your website, and mention it in corresponding promotional material, etc.
Make a habit out of replying to reviews (which Yelp allows business account holders to do publicly and privately).
Before the season is out, I'd love to hear about some of these experiences so take a moment to document your process then get in touch to let me know what happened.