Guests David MacDonald and Sam Merciers swing by the pod to talk about composers and academia. A fast paced conversation, we cover the intersection of technology and music, how career paths for composers are evolving,  ethical concerns around accepting students into composing degree programs, and more.
We wrap up the episode with a bit of visioning and I ask both guests if there was one thing you could change about the relationship between academia and the nonprofit performing arts sector, what would it be?
Here are a few highlights from the discussion:
[easy-tweet tweet="Intermedia art is when you like to do stuff with your hands that you include in your art…that you're only sort of good at. – @housegoy Shop Talk S01E13: Composers In Academia" template="qlite"]
[easy-tweet tweet="Orchestra librarians are another good example of a career where someone with a background in music composition would be well prepared for. – @davemacdo Shop Talk S01E13: Composers In Academia" template="qlite"]
[easy-tweet tweet="I'm tenured in the sense that if I got hit by a bus tomorrow, the department would be in very bad shape. – @housegoy Shop Talk S01E13: Composers In Academia" template="qlite"]
Guests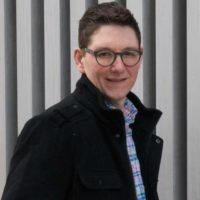 David MacDonald is an award-winning composer and teacher whose music has been performed around the world, and thanks to the pandemic, also on the Internet. He teaches music theory, composition, and technology at Wichita State University, where he also directs the new music ensemble Happening Now. He is also a frequent contributor to Scoring Notes on topics related to contemporary music notation and iPad music tools, as well as cohost of the Scoring Notes Podcast. Recent projects include a chamber work for remote, socially distanced performance over Zoom, and a game score for the Apple Arcade launch title Possessions.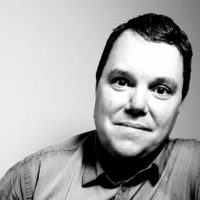 Sam Merciers is a lecturer and coordinator of music theory and composition at the University of North Alabama where he is cofounder and director of the contemporary ensemble UNACE (you-nace). He is an active composer, performer, and intermedia artist with a diverse artistic background. In addition to concert works, Sam's work focuses on music with film, collaborative efforts in sound design for theatre and documentary film, and interactive sound installations.



About Shop Talk
The official podcast of Adaptistration.com, Shop Talk invites captivating guests to talk about engaging topics connected to the orchestra business.

Shop Talk Archives | Shop Talk; Last Call Archives

Publication Schedule (subject to change #obvs)