"I may not have gone where I intended to go, but I ended up where I needed to be." That's one of my favorite lines from Douglas Adams' Dirk Gently series and it's a perfect way to describe my conversation with guests Eric Esparza and Michael Lewanski.
We started off talking about the academia/pro divide but that ended up evolving into an even more fascinating conversation about the double standard that exists between the way the field approaches professional singers and instrumentalists.
For instance, why are singers not paid the rate as instrumentalists? We wade into this and a host of third-rail topics such as class, caste systems, artistic patriarchy, the intellectual protection of tenure, and double standards galore.
It is a fascinating discussion that just flew by. Here are a few highlights from the discussion:
[easy-tweet tweet="There's an unintentional affliction to create a classical music industry. This opens the door for exploiting musicians, but especially singers." – Shop Talk S01E16: Academia/Pro Divide" template="qlite"]
[easy-tweet tweet="Singing as seen as universally inclusive; regardless of ability, there's a perception that anyone can do it and you can put them in a choir and hide them. But no one believes you can grab anyone off the street, hand them a bassoon and see what happens." – Shop Talk S01E16: Academia/Pro Divide" template="qlite"]
Guests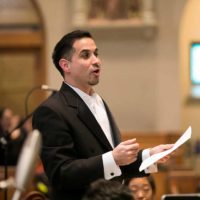 Dr. Eric Esparza is the Director of Choral Studies, Vocal Area Coordinator, and Diversity Advocate at DePaul University in Chicago, Illinois, where he conducts the DePaul Chamber Choir, Concert Choir, and Symphonic Choir, and teaches courses in choral music. Dr. Esparza serves as the Repertoire & Resources Chair for Collegiate Choirs on the Board of the Illinois-American Choral Directors Association, for whom he also chairs the Diversity Initiatives Committee. Dr. Esparza has previously served as Artistic Director of Windy City Performing Arts, International Voices Houston, and the United Nations Association International Choir, and was the Director of Music Ministries at St. Mark's United Methodist Church in Houston, Texas.

Originally from San Antonio, Texas, Dr. Esparza holds a Bachelor of Music degree in Vocal Performance as well as a Master of Music degree in Choral Conducting from the Shepherd School of Music at Rice University in Houston, Texas, where he studied with Dr. Joyce Farwell and Maestro Thomas Jaber. He also holds a Master of Arts degree in Arts Administration from Florida State University where he was a University Fellow. Dr. Esparza earned the Doctor of Musical Arts degree in Choral Conducting from Boston University, where he studied with Dr. Ann Howard Jones. He remains active internationally as a singer, conductor, and music editor.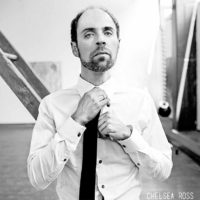 Conductor, educator, and writer Michael Lewanski is a champion of new and old music. His work seeks to create engaged connections between audiences, musicians, and the music that is part of their culture, society, and history. Based in Chicago, he is conductor of Ensemble Dal Niente and Associate Professor at the DePaul University School of Music. He is a frequent guest conductor and recording artist. A native of Savannah, Georgia, he began conducting at 13. At 16, he studied at the St. Petersburg Conservatory with Ilya Musin. He attended Yale University; he subsequently studied with Cliff Colnot and Lucas Vis.



About Shop Talk
The official podcast of Adaptistration.com, Shop Talk invites captivating guests to talk about engaging topics connected to the orchestra business.

Shop Talk Archives | Shop Talk; Last Call Archives

Publication Schedule (subject to change #obvs)
Resources